FHRS/OSM comparison
Hackney
District statistics
The colours in this table act as a key for the maps below
| | | |
| --- | --- | --- |
| OSM objects with valid fhrs:id and matching addr:postcode or not:addr:postcode | 652 | |
| Relevant OSM objects with postcode but no valid fhrs:id | 285 | GPX |
| Relevant OSM objects without postcode or fhrs:id | 608 | GPX |
| OSM objects with valid fhrs:id but mismatched/missing postcode | 0 | |
| OSM objects with invalid fhrs:id | 0 | GPX |
| FHRS establishments with no matching OSM object | 1568 | GPX |
| Total number of relevant OSM objects | 1545 | |
| Total number of FHRS establishments | 2220 | |
| Percentage of FHRS establishments successfully matched* | 29.4% | |
| Percentage of relevant OSM objects with a postcode** | 60.6% | |
*A match is considered successful when the OSM objects's fhrs:id matches an FHRS one and the OSM addr:postcode or not:addr:postcode matches the FHRS one.
**OSM objects with an addr:postcode or not:addr:postcode that matches the FHRS postcode, or with an addr:postcode but no fhrs:id tag.
District progress graphs
Click on a graph below to enlarge it. There are also graphs showing progress across the whole of Great Britain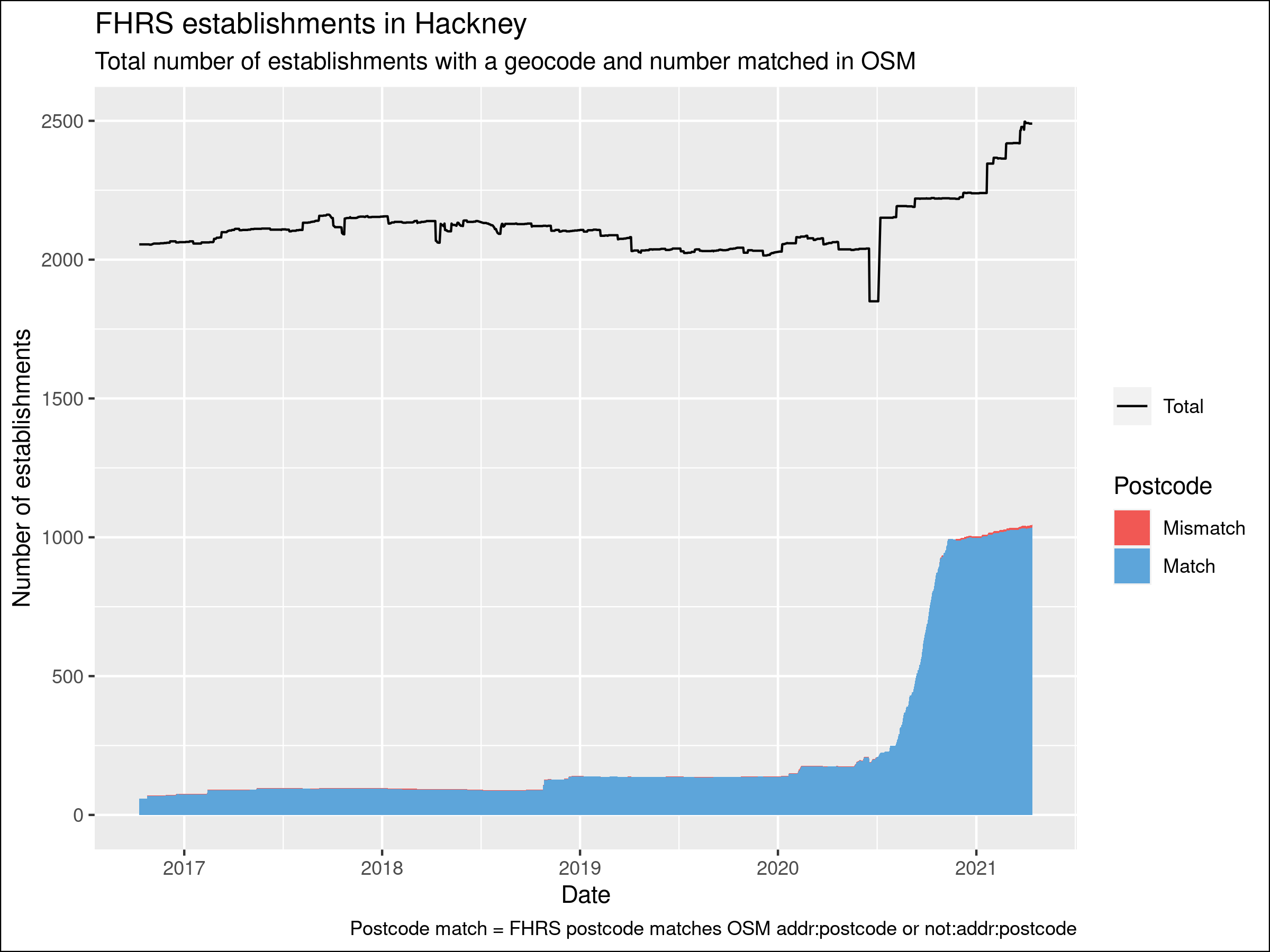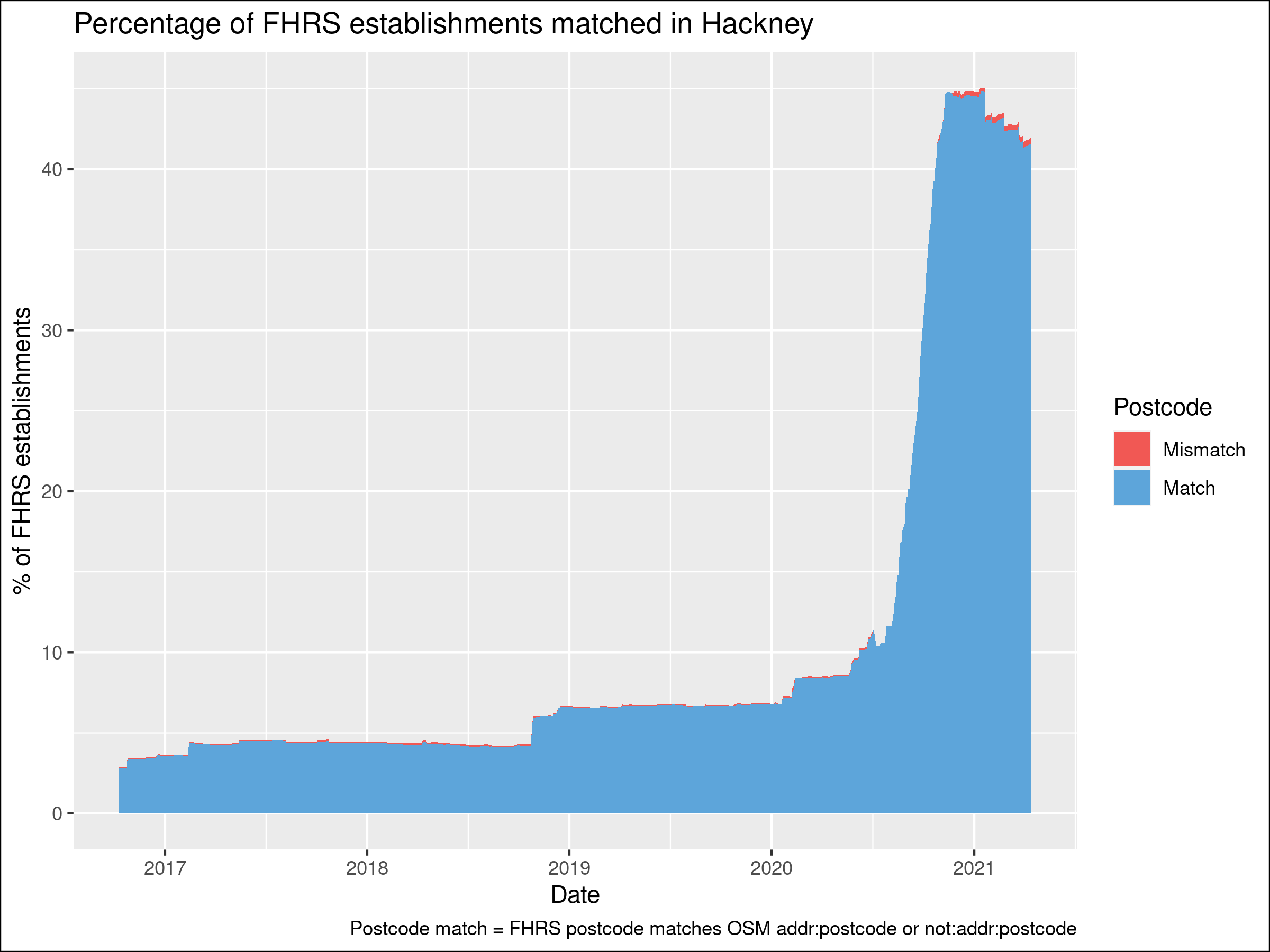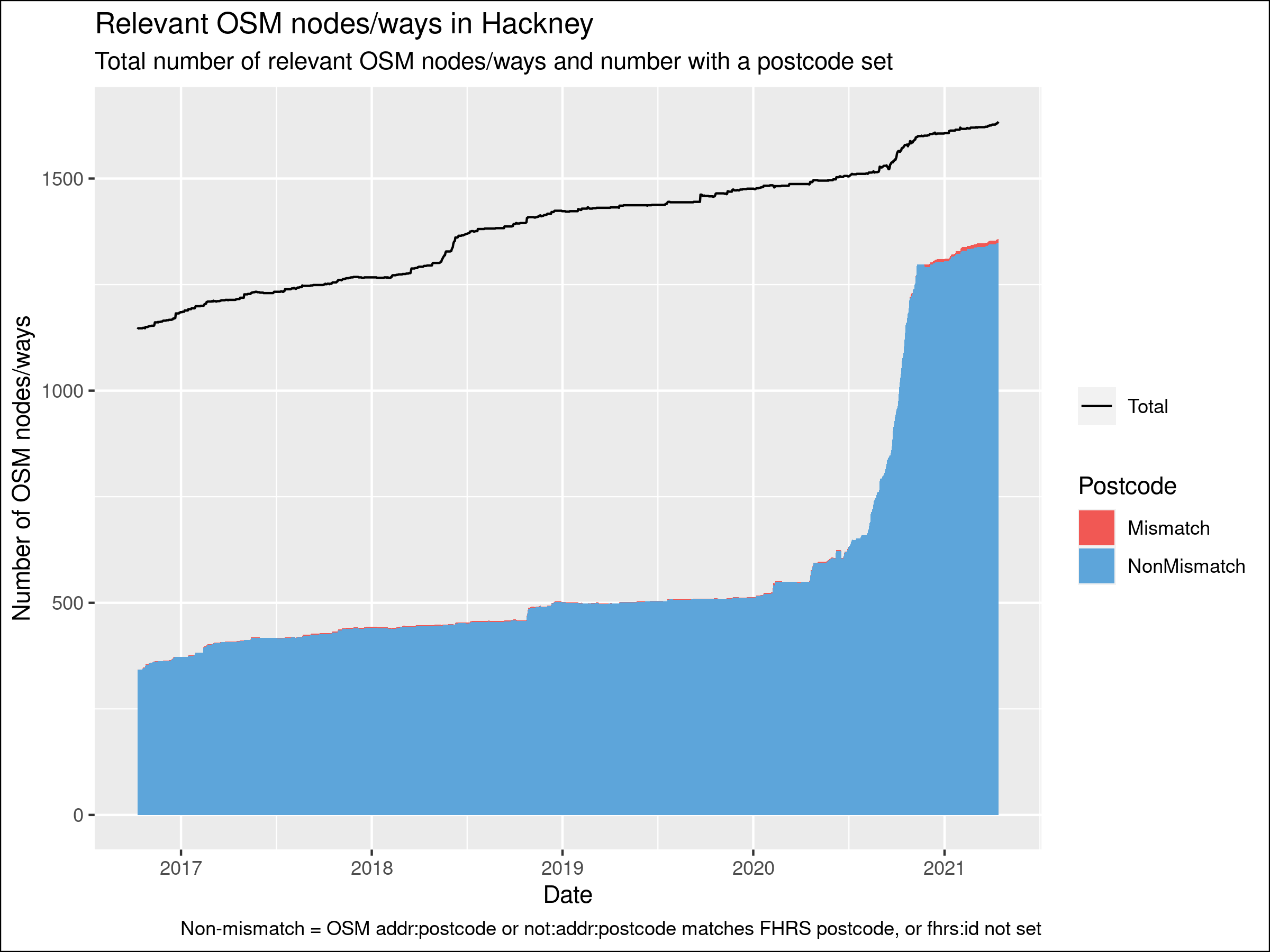 Overview
Dotted lines in the map below show the difference between the OSM and FHRS locations for establishments that have been matched when those locations are more than 500 metres apart. Please see the table below for a list of these distant matches.
Suggested matches
Download suggested matches GPX
Postcodes missing/mismatched
There are no postcode errors to show for this district.
Mismatched fhrs:id tags
There are no fhrs:id mismatches to show for this district.
Duplicate fhrs:id tags
Below is a list of all the OSM entities which have an fhrs:id tag that is shared with at least one of the OSM entities in this district. N.B. This does not necessarily indicate an error with the OSM data.
Distant matches
There are no distant matches to show for this district.
---
Generated using python-fhrs-osm on Mon 28 Sep 2020 at 06:30.
Contains Ordnance Survey data &copy Crown copyright and database right